FLS for Aircraft Fall Safety
Built in 1954, Alaska Airlines' current hangar was originally owned by Northern Consolidated Airlines. The original hangar was designed to accommodate Douglas DC-3 aircraft and is a wood-framed structure.
Alaska Airlines had modified the end bays of the hangar to accommodate 737 aircraft and their taller vertical stabilizers. The new aircraft configuration needed to accommodate either two 737-400 or one 737-900.
The wood-framed hangar structure, which is very common to see in the Pacific Northwest from Northern CA to Alaska, presented certain structural challenges that don't occur in modern steel and concrete structures.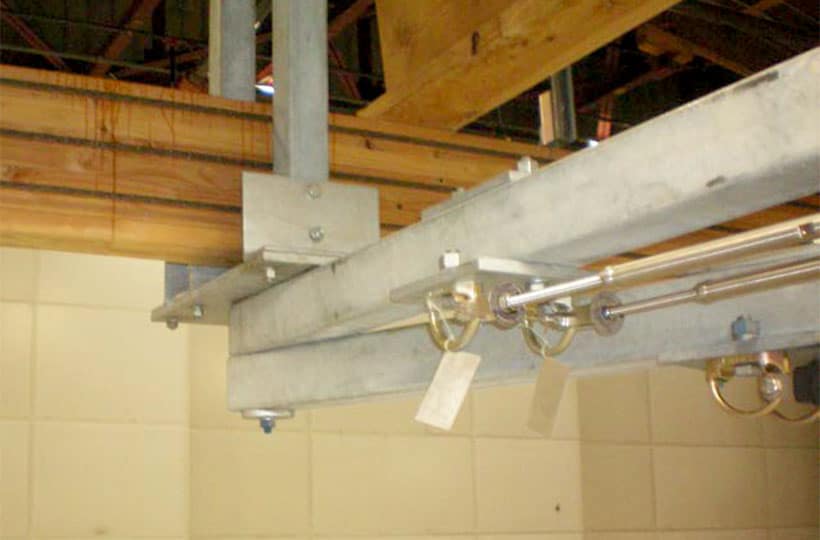 Project Challenges
Alaska Airlines contracted with a structural designer of wood framed structures to analyze the compatibility of their structure to the addition of fall protection. Western Wood Structures out of Tualatin, OR produced a report which gave outlines of the maximum loadings that the building itself could sustain in either a fall load or simply adding weight of equipment to the structure. They also mandated that no significant loads could be applied to the bottom chords of the wood trusses, so end connections had to be made only at the top chord.
The maximum added weight requirement, as well as the spans between trusses excluded the use of any FlexRail or standard rigid rail product. This left a wire system as the available solution, but the trusses were poorly braced laterally and could not take cable system end loads without support.
Due to the aircraft vertical stabilizers in the high bays, tension tiebacks could not be used, as they would be in the way of the aircraft itself. Tension tiebacks are a standard way of distributing the end loads of a cable system onto the next structural bay behind the end connection.
FLS Solutions
The FLS team devised a hybrid system, in which a very light-weight tube would be installed the full length of the cable system run. This tube acts as a compression strut along the entire length of the cable, and will distribute any fall arrest loads, both horizontal and vertical, without structural damage to the wood trusses. It also maintained the weight-limitations.
Results
This solution met Alaska Airline's needs very well. FLS maintains the relationship with their facilities team, beginning with this project, continuing through present day. We've performed the annual inspections (recertification) since 2012, mobilizing from Houston to Anchorage to get the work done.