FLS Fall Protection for Piping Distribution
Merfish Pipe and Supply in Houston, Texas is a large distributor of carbon steel pipe, fittings, and flanges serving several industries in the Houston area across the entire United States.
Merfish came as a new customer for Flexible Lifeline Systems, seeking out a fall protection solution for its employees climbing stacks of pipe in order to attach rigging hardware for lifting with overhead cranes.
A high risk of falling exists for people working at height on the uneven and slippery bundles of pipe that vary in size and packaging method. Working heights also vary from approximately 5 feet to over 15 feet above the warehouse floor.
The Right Fall Safety Solution
A FlexRail rigid rail system was the ideal solution for several reasons. The FlexRail could be attached directly to the 15 Ton overhead cranes, requiring no reinforcing steel to be installed on the building structure. The full length travel provided by the FlexRail trolley allows the employees to tie-off to an SRL at any point on the rail before ascending to work-at-height. Finally, the minimal fall distance produced by the FlexRail system will prevent the worker from reaching the ground in the event of a fall, even at low working heights.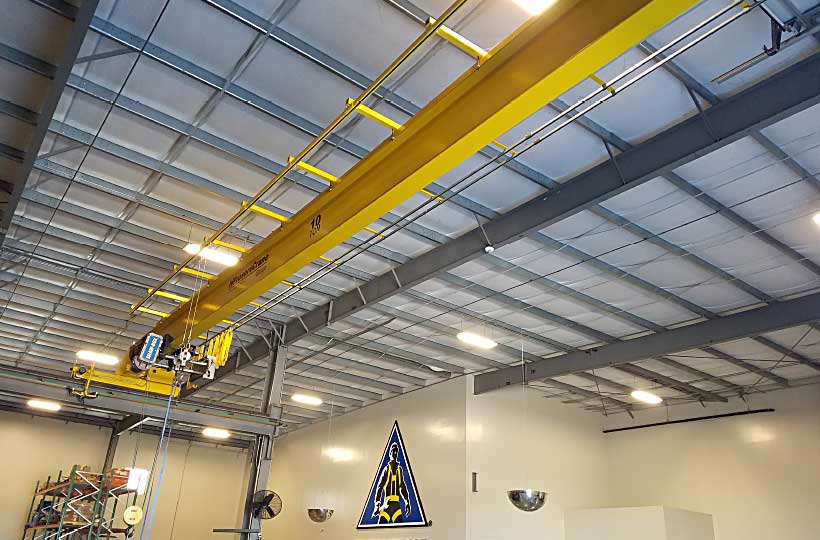 Project Details
Before Merfish hired Flexible Lifeline Systems, they requested to see a system in use. We installed FlexRail systems on our own overhead cranes for use in loading and unloading trucks. Upon seeing the FlexRail system in use, Merfish hired Flexible Lifeline Systems within the week.
FLS designed, fabricated and installed a total of two FlexRail systems capable of supporting two users each, as well as all required steel mounting hardware and user equipment. The two FlexRail tracks mounted to two separate overhead cranes in different storage bays allow for fall protection coverage at nearly any point in each bay due to the mobility of the overhead crane.
Utilizing "plain track" FlexRail allowed FLS to design the systems at the highest possible elevation allowed by the cranes. The systems are below travel plane of the crane motor, and above the crane block to prevent any damage or interference.
Experience with Installation
A minor challenge of this project arose from the fully enclosed box-beam structure of the cranes, which prevented typical mounting design utilizing beam-clamps. The ideal solution in this scenario was to design the attachment with LNA Box-Bolts to penetrate the steel plate of the crane and avoid any welding in the field.