FLS Fall Protection for Loading Trucks
Evonik is one of the world's leading specialty chemicals companies. They concentrate on high-growth megatrends, especially health, nutrition, resource efficiency and globalization.
An overhead fall protection system was needed in their Acrylic Bay to access the tops of trucks loading materials for distribution. The overhead horizontal lifeline system allows their worker to tie off to the lifeline before climbing up the truck ladder and remain tied off 100%  of the time while walking along the top of the truck.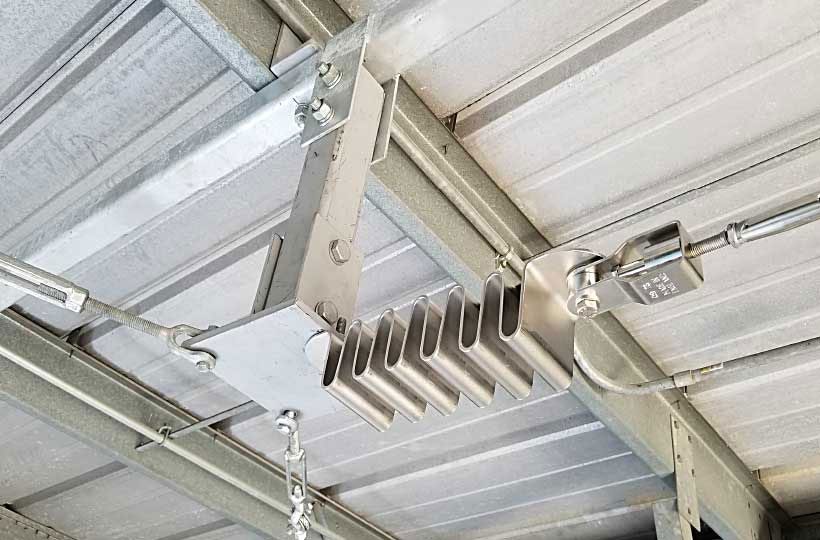 Project Details
FLS designed, fabricated, and installed a 20'-8"  overhead horizontal lifeline system.
The initial system design was for a 30' FlexRail fall protection system to be attached to the Zee purlins, however, structural analysis showed that the purlin structure would not be able to handle the load applied by the system in a fall.
An FLS overhead horizontal lifeline was chosen as an alternative. By adding tension tiebacks, the fall arrest load would be distributed back to the columns (main structure), instead of applying the force of the full load into the Zee purlins.
HSS square tubes at cable end connection fabrications also bridged three Zee purlins to further distribute the load.  This method could have been employed in a FlexRail arrangement as well, but without the tension tieback load distribution, the Zee purlins still had failure potential.