FLS Fall Protection for Building Maintenance
Chamberlin Roofing is a roofing company that also specializes in waterproofing. One of their clients, a high-end retirement and assisted living facility called The Hallmark, needed a fall protection solution for window washing.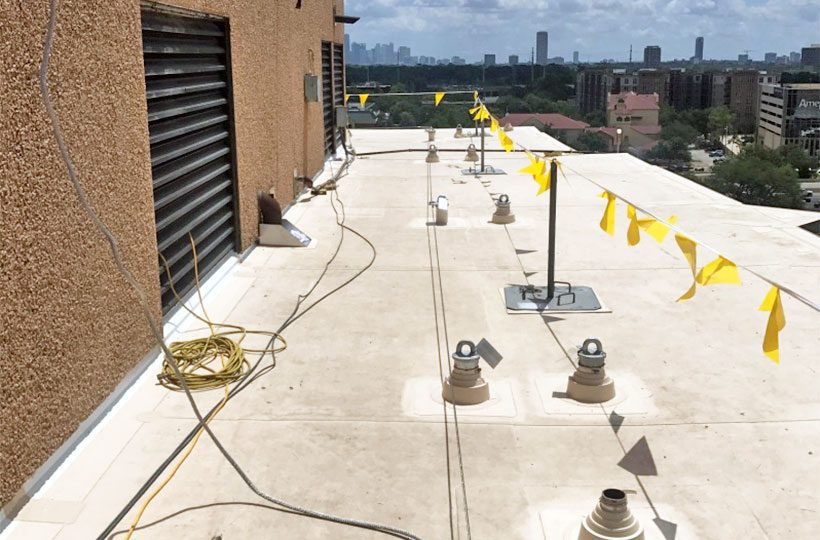 Project Details
Flexible Lifeline Systems designed, supplied, and installed 32 Tieback Anchors, one 280 feet Multi Span Lifeline System, and one FlexGuard Portable safety railing.
FLS rooftop tieback anchors are a practical, safe, and permanent anchor solution for building maintenance, window washing, and facade maintenance. Proven and cost-effective, rooftop tieback anchors are used for fall protection and a wide range of suspended access applications. FLS is a one-stop shop offering consultation, engineering, design, installation, inspection and certification of rooftop tieback anchors. Our tieback anchors are OSHA compliant. We also offer an annual inspection nationwide.
Multi Span Horizontal Lifeline Systems feature intermediate supports and cable shuttles allowing users to pass through without disconnecting from the lifeline. Multi Span Horizontal Lifeline Systems are used in many industries and applications including; overhead cranes, roofs, pipe racks, water treatment facilities,railcars, arena rigging grids and many more.
FlexGuard Portable safety railing is a portable guardrail system that is made up of moveable sections and weights that can easily be disassembled, assembled, and moved to where it's needed. It is free standing with no need for any connections to the roof surface. FlexGuard Portable is designed to meet OSHA construction industry standards. The system is sturdy like permanent railing, but can easily be adjusted or moved when necessary.  Only a standard torque wrench or hex key is required for assembly or disassembly.
Project Challenges
Retro-fitting the project to a 1975 building was a challenge.