Overhead Fall Protection Systems For Railcar & Truck Loading
Overhead horizontal lifelines provide the most customizable pass-through fall protection in the world. This is particularly important for our clients who service different types and sizes of railcars and trucks.
Single Span Systems
Single span systems are economical, cable-based, stainless steel fall arrest systems that provide fall protection for up to three users for 200 feet.
Multi-Span Systems
Our multi-span system accommodates horizontal, inclined, curved and vertical requirements, allowing a user to travel unlimited lengths without having to disconnect and re-connect to the system.
Horizontal Lifeline Installation
Thanks to the flexibility of FLS, our engineers are able to develop and install both single and multi-span flexible horizontal lifelines that accommodate all your protocols. With these systems, multiple workers have the ability to safely and efficiently access the entire length of any truck or railcar.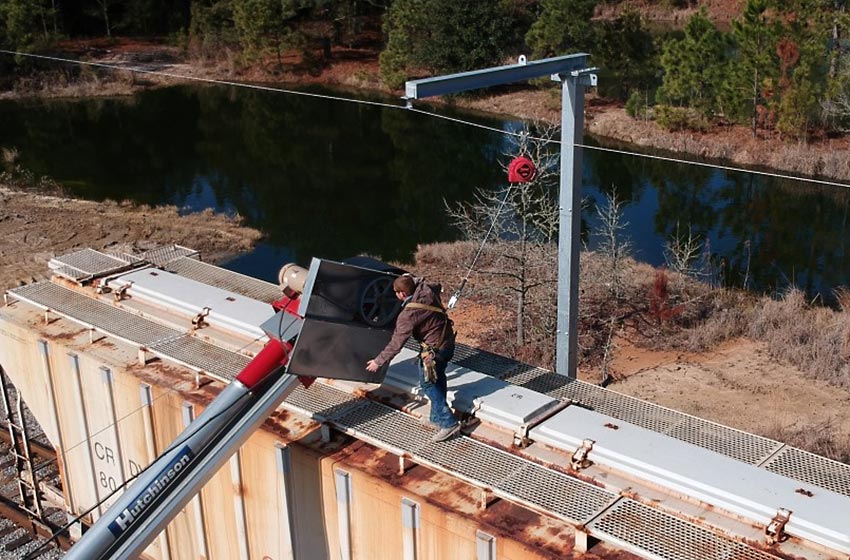 Overhead Cable System Features
Unique and patented overhead shuttle unit glides freely over intermediate cable guides to enable continuous protection over the entire length of the system
Built-in user-friendly tension indicator
Simple and economical installation
Serial numbering of all components
Single span lengths of up to 200 feet
Unlimited length multi-span systems
In-line energy absorber to reduce end loads
All-weather use for optimum productivity