Roof Anchors For Fall Protection and Facade Access
FLS rooftop tieback anchors are a safe, practical and permanent anchorage solution for window washing, building maintenance and facade maintenance. Cost effective and proven, roof tieback anchors are used for fall protection and a wide range of suspended access applications. The roof anchor provides an ideal fall protection anchor for rope descent systems where specific use and height restrictions apply and where workers are operating suspended roof powered platforms and self powered platforms on permanently installed davits and temporary rigging equipment, or anywhere leading edge hazards exist.
Roof Anchor Effectiveness
Our tieback anchor system provides an ideal safety solution when any of the following are needed:
Lifeline anchorage for workers operating on self powered or roof powered platforms and stages.
Independent fall protection anchors for window washing davit systems, building and facade maintenance systems.
Fall protection anchor where leading edge hazards exist
Rooftop tieback anchor for temporary rigging equipment
Rope descent system anchor where specific use and height restrictions apply
Advantages of Our Roof Anchor Tieback Systems
Using an FLS roof anchor system for rooftop and building maintenance provides multiple advantages including the following:
Proven Design — We have thousands of installations worldwide.
Cost Effective — FLS roof tieback anchors are an economical choice compared to many alternative solutions without sacrificing safety.
Simple to Use — The simple design of our roof tie back anchors result in increased productivity.
Roof Anchor Installation
Supply Only — The most common designs are in stock and ready to ship. Rapid production and delivery is available on non-stock items.
Architectural and Engineering Service — FLS takes the pain out of system design by doing all the layout and specification for you. Let us assist you with drawings, documentation and specifications for new-build or retrofit systems.
Turnkey Design and Installation — We're a one-stop shop offering consultation, engineering, design, installation, inspection and certification of rooftop tieback anchors.
Use in accordance with local, state and federal regulations and standards on roofs for independently securing worker's lifelines, suspension of boatswain (bosun) chairs or tieback of suspended access equipment such as:
Outrigger Beams
Window Washing Equipment
Permanently Installed Davit System
Roof Powered Platform
Self Powered Platform
Building Maintenance System
Facade Maintenance System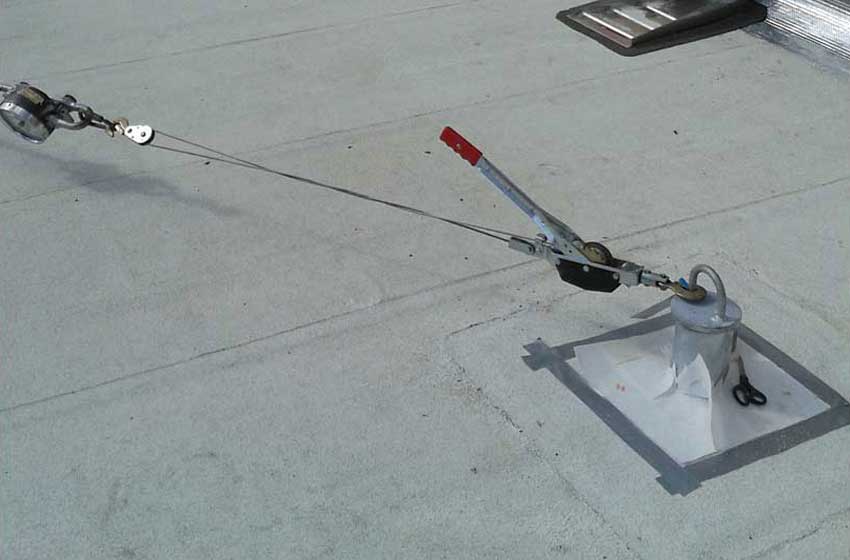 Annual Inspection of Tieback Anchors
FLS offers nationwide inspection service of building maintenance and facade access systems:
Startup — Of self-powered platforms & BMU's
30-day — Of self-powered platforms & BMU's
Annual inspections — Of tieback anchors, monorail systems and trolleys, davit systems, self-powered platforms & BMU's
The report and certification shall be included in the logbook. Regulatory authorities require anchors to be inspected annually by a qualified person with the inspection date, name of the inspector, his signature and company plus any comments recorded in the building facade maintenance equipment log book. The re-certification shall be under the direct supervision of a registered professional engineer.
OSHA Compliant Fall Protection Anchors
Our tieback anchors conform to all U.S. standards, state labor and safety codes and materials standards relating to anchor fabrication, window cleaning and other suspended maintenance operations. Conformance includes ASME, ASME A 120.1, IWCA I 14.1, OSHA 1910.66, CALOSHA, AISC, AWS, and other references.