Fall Protection Solutions for Distribution and Fulfillment
At this facility Nestle and Ozarka water bottles are made, filled, and packaged for distribution. Workers must access the top and inside of the Filler/ capper units for regular maintenance. Workers must access the inside of the filler unit on a weekly basis. Due to wet and cramped conditions in the filler the risk of falling is moderate to high. The potential of life-altering or fatal injuries are high. Workers now have an engineered tie off point.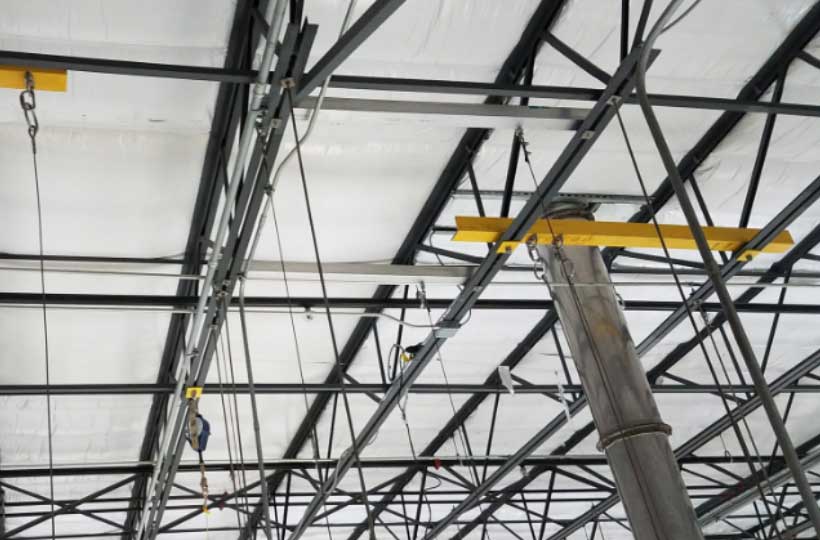 Project Details
FLS designed and engineered five single point anchors over the Filler/Capper enclosure. Two single point anchors were outfitted with self retracting lifelines for access to the top of the unit. Two were outfitted with Stainless Steel Cable Drop to access the filler bowl inside of the enclosure. One was outfitted with Stainless Steel Cable Drop to access the Capper inside the enclosure.
Getting lifting equipment into the areas requiring work was tightly compacted limiting the mobility of manlifts and other lifting equipment. Strict bacteriological safeguards were in place to prevent contamination of products intended for consumption. Special materials were required for fabrications and anchor points within the Filler enclosure. HVAC, Electrical conduit, and conveyor belts limited the feasibility of using standard attachment methods and single point anchors on certain equipment. To provide anchor points inside the enclosure FLS was required to drill through the roof of the enclosure.