Multi-Purpose Static and Mobile Work Platforms
Falls can occur at any height while performing almost any task. In order to prevent falls, FLS Work platforms are designed to provide employees with access to a work deck with railing for areas where other systems such as ladders or towers are not appropriate.
Multi-Purpose Access Solutions
FLS multi-purpose Work Platforms are suitable for hard to access areas such as elevated machinery, shelved warehouse inventory, tall vehicles, welding, plastering, construction or any application where a protected elevated work surface is needed. Our Work Platforms are designed for stability and can be engineered to accommodate practically any work environment.
Modular, Flexible and Durable
Should the requirements for your work platform ever change, the modular nature of the platforms provide flexibility on location where they can be adjusted or expanded as needed. FLS Work Platforms utilize durable components and fittings that make the platforms rugged, sturdy, and corrosion resistant.
Quick, Cost Efficient Delivery
Prefabricated components allow our work platforms to be delivered quickly and make them easy to assemble. The unique nature of the system components allows sections to be delivered unassembled or semi-assembled to reduce shipping costs. At your discretion, work platforms can also be delivered completely assembled.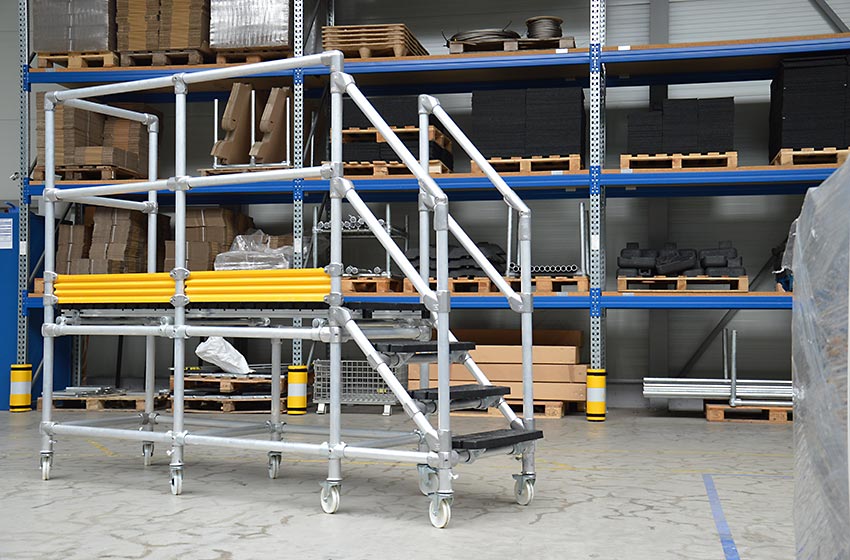 Portable and Mobile Work Platforms
FLS Work Platforms can be configured as permanent fixed solutions, or as mobile platforms with wheels that can be deployed where they're needed. Platforms can also be partially or completely taken apart and transferred to a new location where it can be reassembled. A benefit that's not available with a welded platform
Efficient Design and Installation
FLS Work Platforms can be quickly designed to meet the needs of any given situation. Because the system does not require welding, our work platforms can be configured and installed faster than welded solutions. A custom designed FLS work platform can be implemented in about half the time of a fabricated option. Additionally, no specialized labor is required to assemble an FLS Work Platform.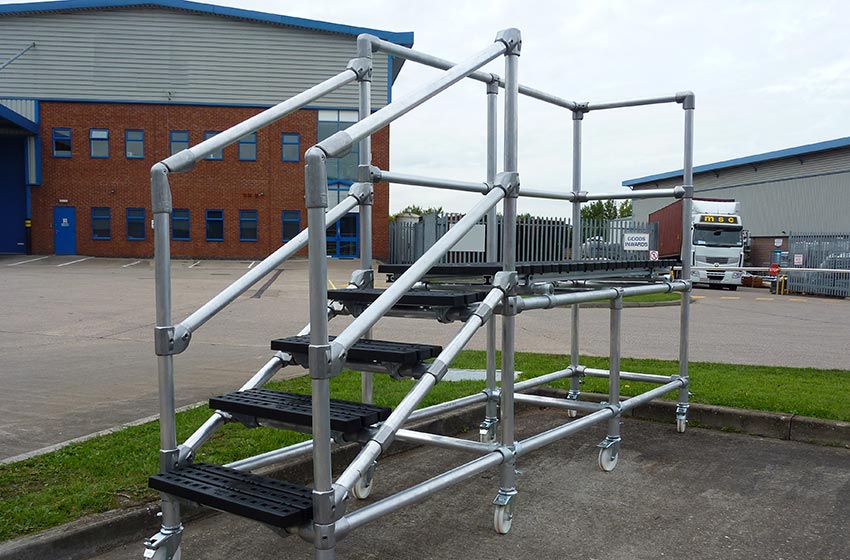 Work Platform Features & Benefits
Platforms can be fixed or mobile
Modular design
Available in galvanised steel or aluminium
Quick and easy to assemble
Engineered to meet specific site requirements
Rugged and durable
No welding or drilling required
Excellent strength and corrosion resistance
Rapid delivery and installation
Can be delivered pre-assembled