FLS for Window Washing Fall Safety
Rooftop tieback anchors were needed to facilitate a window washing system for Texas A&M University. The contractor used by Texas A&M has been servicing commercial projects in Texas since 1959. They turned to Flexible Lifeline Systems for engineering and certification of an OSHA/ANSI compliant building maintenance system.
The Right Fall Safety Solution
The tieback orientation allows for the worker to connect to an anchor as they enter the unprotected roof area. The tiebacks are used to support the worker while they descend over the side of the building to wash the windows. The tiebacks are designed to handle 4 times the required working load of 1,250 lbs, or 5000 lbs, whichever is greater.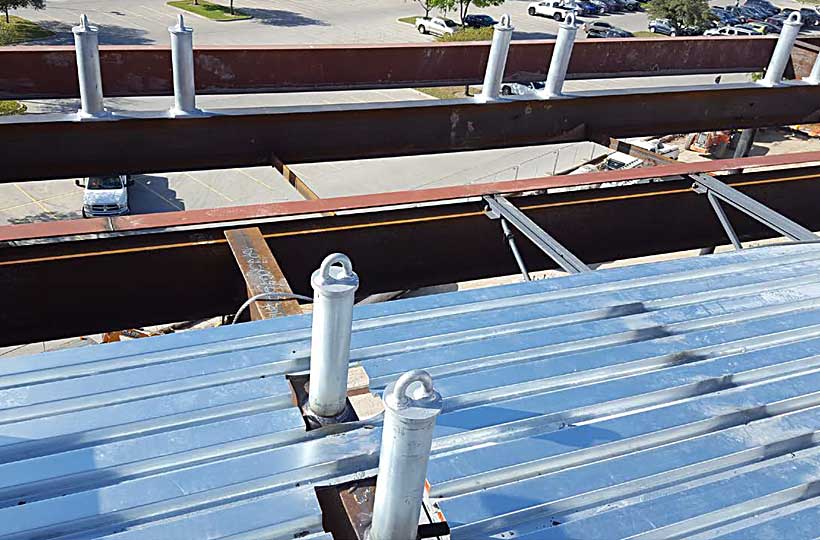 Project Details
FLS designed, fabricated and installed thirty (30) tieback anchors of varying height and attachment method. Twenty-eight (28) of the tiebacks were welded to a steel beam and two (2) of the tiebacks were installed into a concrete deck, through-bolted to a plate beneath the roof deck.
Experience with Installation
FLS brings the know-how and experience necessary to handle any project challenges including coordinating the install time to not interfere with other trades on the rooftop and safely weld at elevation through openings in the roof deck.