Portable Overhead Anchor Points
The Mobile Quad Rail System (MQRS) allows you to place mobile overhead anchor points where you need them in your workplace. These systems roll over equipment or other structures being accessed, and provide ground-up fall protection for your elevated work activities. The built-in horizontal rail affords the simplicity of a rail and trolley system while allowing users a full range of motion over the work area, keeping your workers safe without interfering with their jobs.
Custom Designs
Available in a range of heights and wheel styles, the Mobile Quad Rail System can be ordered to meet your application's custom requirements. An FLS engineer will work with you to ensure your system is optimal for your work environment. Additionally, our in-house fabrication facilities ensure fast production and delivery of custom products.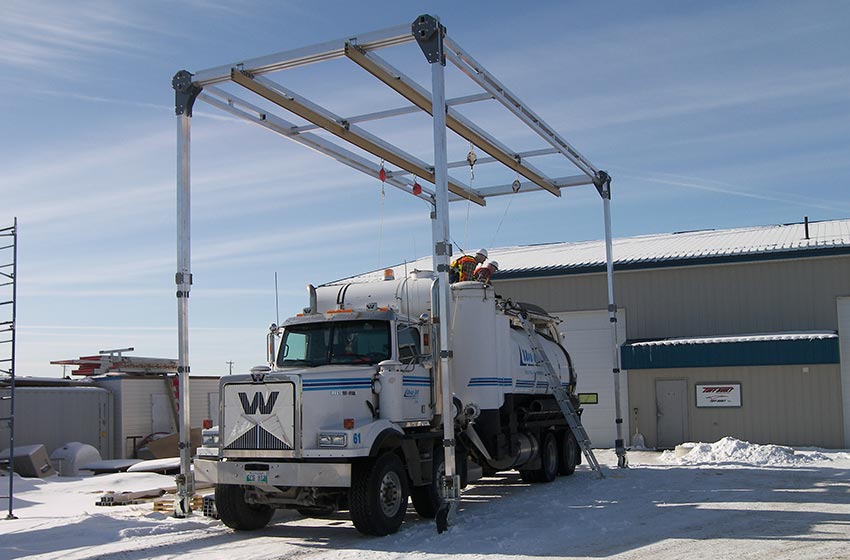 Mobile Quad Rail System (MQRS) Features
Rugged Frame
Constructed from powder coated aluminum and zinc-plated steel for corrosion resistance and maximum durability
Lightweight
Easily moved by hand
Why Flexible Lifeline Systems?
As the industry leader, we set the standard for fall arrest capability, quality and efficiency. Let our experts help you maximize the fall protection provided by the Mobile Quad Rail System.
Mobile Quad Rail System (MQRS) Specifications