Published on: April 15, 2013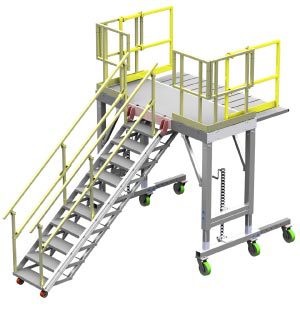 Fall protection is extremely important in every industry and aircraft maintenance presents its own unique challenges. Companies that build, repair and maintain aircraft of all sizes need to take the necessary precautions to keep their workers safe. Fortunately, there are many fall protection devices on the market that will provide a safe environment for their employees, mechanics and engineers who work on all types of aircraft.
Hazards of Working on Aircraft
There are many hazards when working with aircraft, which is why the government has implemented regulations that workers and employers must follow. A fall hazard is defined as any situation in which a person is working at an elevated height. If the individual is working above ground level, they may suffer a serious injury or death if they fall, which is why fall protection equipment is so important. Falls may happen as workers are trying to reach the top of the aircraft or while they are performing tasks on small to large jets and planes.
Creating a Safe Environment
In order for the elevated area to be a safe working environment, companies must implement a fall protection plan that will reduce the likelihood of falls and injuries. There are several factors that will affect which aircraft fall protection devices should be used. For example, there is equipment that is suitable for working on airplanes in hangers, but other devices are better designed for use outside of a hanger. The type of work that is being done will also affect the safety equipment that should be used. In some instances, workers will need to perform their duties while standing on the aircraft, while other situations may require them to stand on platforms to reach the aircraft. No matter what type of equipment is used, all workers should complete fall arrest training so that they know how to use the equipment properly. The company should also perform a routine fall protection system inspection to ensure that everything is working properly.
Platform Equipment
Whenever possible, workers should stand on platforms to access the aircraft. There are many types of platforms available, which will make it easy to find the perfect platform that will suit their needs. Maintenance platforms are ideal for performing maintenance tasks on helicopters and other small aircraft, and some of them can be adjusted so that the workers can easily reach various areas of the aircraft. There are also deployable stands that can be moved to different locations, as well as flight line stands that can be used for emergency repairs. Platforms provide workers with the height they need to reach the aircraft work area while also surrounding them with rails that will keep them from falling. Companies should conduct annual inspections of self powered platforms to verify that the equipment continues to provide a safe environment for workers.
Fall Arrest Systems
Fall arrest systems should be used when workers need to stand on the aircraft for maintenance and to make repairs. There are many fall arrest systems on the market, and companies should carefully choose the systems that best meet their safety needs and requirements. If the company works on many different sizes of aircraft, then they may want to choose a system that allows workers to easily adjust to different elevations. They may also want to use a Wingrip, which can be used as an anchor point when workers are performing tasks on fuselages, wings or stabilizers. No matter which devices are used to protect workers, companies should regularly perform a fall arrest system inspection to make sure everything is working properly.
There is a wide assortment of fall protection equipment available for aircraft companies, and they should carefully analyze their needs before they purchase their safety devices. They may even want to have the workspace analyzed by fall protection experts to analyze the different options available to keep their workers safe.