Published on: August 22, 2023
Approximately 70% of the US economy is fueled by the production and distribution of consumer goods and services. Even during the economic downturn and supply-chain disruptions of 2020, the warehousing and logistics industry grew 9.5% from 2018 through 2023. Currently, warehousing and logistics occupy approximately 14 billion square feet and employ about 1.2 million people. Unfortunately, the US Bureau of Labor Statistics shows that work-related fatalities and injuries in warehousing are trending upward as well. In fact, cases of work-related fatalities and injuries for 2023 are double the average of 2018-2021 rates. Why? 
Safety risks and hazards within busy operations are not always obvious because safety is a way of thinking and behaving.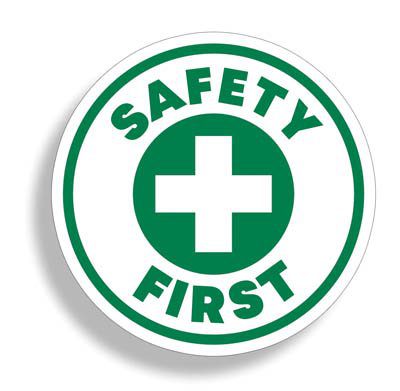 Having a Safety First mindset is critical in industrial environments such as warehousing and logistics due to the activity of people, forklifts, and industrial trucks. However, working safely is not always the easiest way to work and even the strongest safety cultures can weaken over time.
When facilities become hyper-focused on scaling operations to satisfy demand, it's common for safety strategies to not be effectively scaled along with operational growth. When this happens, facilities can find themselves with the untended consequence of a Safety Fourth mentality.
Often referred to as the General Duty Clause, The US Occupational Safety and Health Administration requires employers to furnish to each employee a place of employment that is "free from recognized hazards that cause or are likely to cause injury, serious physical harm or loss of life to employees."  
Conducting safety audits and hazard assessments is the first step toward building a comprehensive safety program and adopting a Safety-First mindset.
Even the most conscientious organizations have difficulty recognizing and addressing potential risks and hazards. Adopting a proactive safety campaign to protect employees should have a clear purpose: identify minor problems before they become major costs or potential safety risks to employees. It can be daunting to know where to start below are 5 best places to start.    
5 Common Hazard Areas for Warehouses… and options for how to make them safer.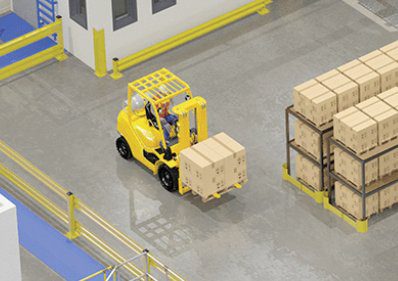 #1 High Traffic Areas

Forklift injuries are among the most common types of warehouse accidents and can prove the most dangerous. As many as 20,000 workers are injured in forklift accidents each year and a large percentage of those are due to poor delineation of traffic areas. Flags, floor taping and marking, and warning signs are not always sufficient to protect warehouse workers. Barrier & guardrail solutions that are designed to absorb the impact of a forklift, sweeper, and other in-plant vehicles provide a layer of protection to protect valuable assets such as people, machinery, building walls, shelving, racks, doors, and finished products across the workplace. Learn more about Safety Barriers…
#2 Truck Loading Areas

Not only do 25% of all warehouse accidents happen on loading docks, but for every injury, there are around 600 near misses. Falls from a height remain the leading cause of fatal accidents and serious injuries in the workplace. Loading docks and truck loading areas should be marked by administrative controls and staff can be protected from falls using overhead track & trolley systems. Learn more about Pre-Engineered Rigid Rail…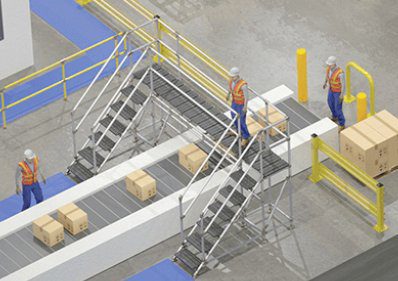 #3 Conveyor Systems

Inspection, testing, maintenance, and repair to moving parts and freeing up jams on systems are all common routines that can place workers at risk. Maintaining safe and productive operation of conveyor systems will include specialized training at all the stages of the line. Lockout systems and safe access solutions to provide personal fall protection to those responsible for its trouble-free operation. Fall protection includes overhead systems and step or crossover systems.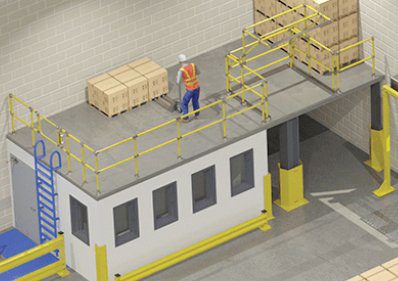 #4 Storage Mezzanines

Raising pallets to a higher level such as a mezzanine often exposes forklift operators and workmates to falling material and openings in handrail while the pallets are being positioned. Pivoting railing systems and self-closing gates are all used to control access to mezzanine areas while they are being stocked or accessed. Some of the best solutions are designed to prevent objects from falling to a lower level. Learn more about Mezzanine Solutions…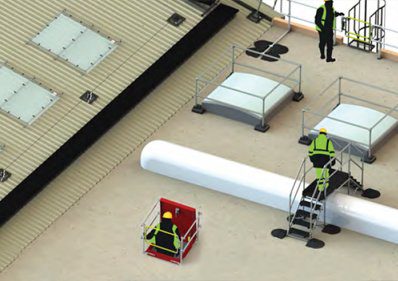 #5 Rooftop Access Points

When large facilities locate air handling equipment such as HVAC and exhaust vents on roofs, there is a need for routine service checks and repair. Due to their frequency of use and height all the main points of rooftop access, such as hatches and fixed ladders, should be checked to ensure they have compliant passive or active personal fall protection. Learn more about Rooftop Fall Protection Solutions…

To learn more about how to protect your operations and your people, reach out to industry experts that are setting the standard for fall protection capability, quality, and efficiency. Connect with certified fall protection professionals who are addressing risks and hazards like yours today. https://fall-arrest.com/contact-us/ Learn more about warehousing, distribution, and fulfillment safety solutions: https://fall-arrest.com/fall-protection-industries/distribution-fulfillment/